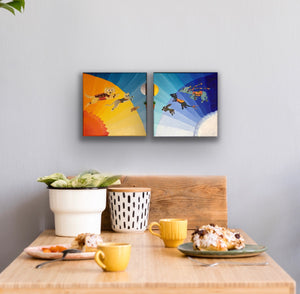 Love Unites. Celestial Beasts: Seasonal Sky Stories
Sale price Price $150.00 Regular price $0.00
In skies around the world, constellations are recognized using different animals with different stories.
This set of paintings was designed to physically unite very distant places with different stories.
These are the source paintings for greeting cards I recently made.
"
LOVE UNITES Even when we are apart, our shared stories bring us together under the same big sky."
Title: Love Unites. Celestial Beasts: Seasonal Sky Stories
Dimensions: Each painting is 12" in. W  x 12" in. H 
Description: Acrylic on canvas
Additional Information: Set of 2 paintings. They are framed in natural tone wood floater frames.